Equipped with 6 kW of solar panels the solar container allows you to use 100% green energy anywhere at any time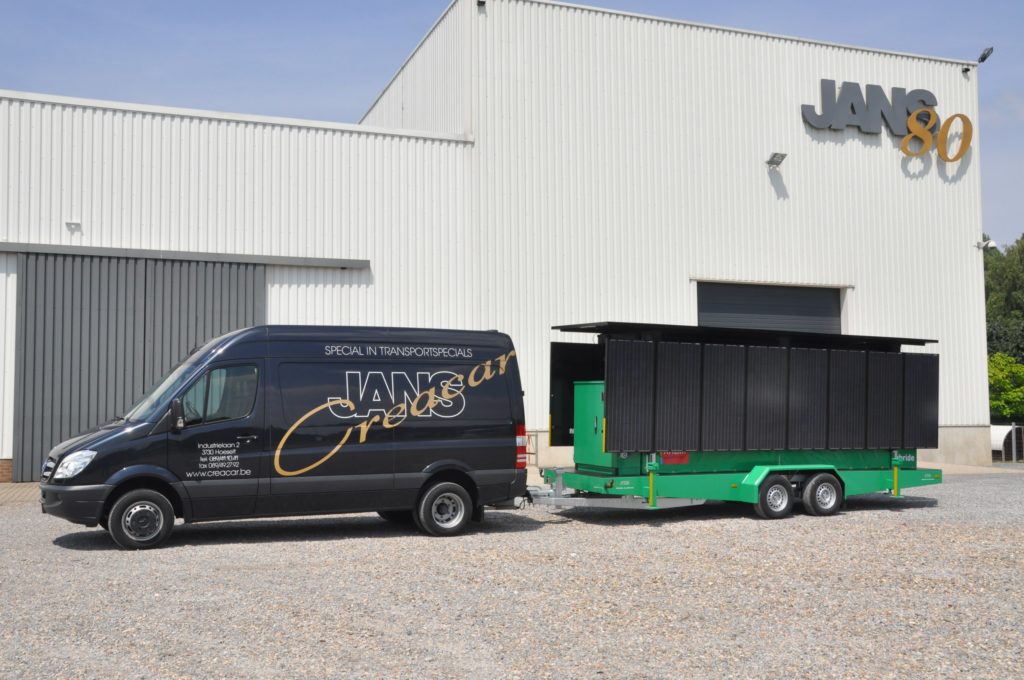 Transport & Installation
A 3500 kg trailer forms the basis for the solar trailer. This means that it can be transported anywhere on land by a vehicle capable to tow a 3.5 ton trailer.
Setup
When the trailer is at the desired location, it can be assembled by one person in less than 15 minutes. The built-in telescopic mast lifts the solar panels above the trailer after which the left and right sides move upwards so that they are perpendicular to the sun. Then the entire surface with solar panels will rotate around its axis in the direction of the sun. From now on, the solar panels will automatically follow the sun and an operator is no longer necessary.
The container is equiped with a windspeed meter so that the solar panels automatically lie flat when the wind forces are higher than 7 beaufort. In this position the trailer can withstand windforces up to 10 beaufort.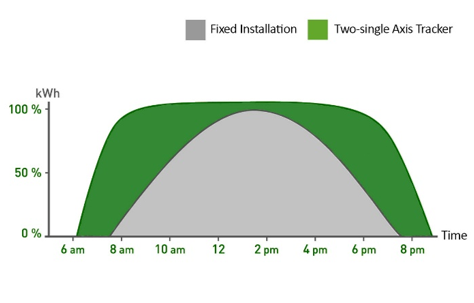 Energy production & consumption

The solar trailer is equipped with 31 m² of solar panels, which can generate a maximum output of 6 kW. The solar tracking system ensures that the solar panels are optimally directed towards the sun throughout the day, so that up to 45% more power can be generated than an installation without a solar tracking system. Also, the energy production will be much more even during the day. The generated energy will be stored in the battery pack that is present in the container.

The solar container can deliver energy in the form of a single-phase voltage. A maximum power of 8.4 kW can be delivered to the consumers .
Technical Details
Dimensions
Solar surface: 31 m²
Total Weight: 3500 kg
Total maximum height: 6.4 m
Operation diameter: 8.1 m
Transport
3.5t Trailer
Vehicle with a towing load of 3.5t needed
Operational elements
Operated by 1 person
Within 15 minutes operational
Without external power supply
Capable of winds up to 10 Beaufort
Power parameters
24 Solar panels
Automated sun 3D tracking
Maximum peak power 6 kW
Battery capacity of 14.4 kWh
5 kVA optional emergency generator
Power output :

1 x 32A monophase
1 x 16A monophase