The history of Jans
In 1929, the brothers Jans Paulus and Jans Adolf founded the company 'Gebroeders Jans'.

Adolf Jans
Born on 16-04-1910 and passed away on 15-02-1999.
Paulus Jans
Born on 11-09-1896 and passed away in 1981.
The company was located at the Kiezelweg in Mopertingen. Before World war II we produced especially wooden wheels and cabinets. After World war II, wood has been replaced by steel and aluminium. Thanks to the willpower and perseverance of the brothers, the company became a synonym of quality, specialty and service. The education and experience of the successors resulted in expansion and diversity of the production. In 1976 the company Jans N.V. moved to current location, Industrial Zone in Hoeselt.
Since the request for special transport vehicles and several other constructions became larger and larger, the company Jans Creacar was founded in 1992 out of JANS NV by Jans Bruno. (for the more standard projects his brother Jans Jozef founded Jans JRS). The technical knowhow and transfer of capable employees where the basis of the success of Jans Creacar. The creative challenges became worldwide famous.
In 2001 Jans Jozef sold his shares from JANS NV to Jans Bruno (owner of JANS Creacar) JRS moved away from this location and Jans Creacar could use the original trademark JANS again.
On december 2012 Jans Bruno sold his shares from JANS Creacar to Marc Scherpenbergh (He started working as an engineer for Jans Creacar since 1992). Bruno Jans stays the owner of JANS NV and is still senior manager of JANS Creacar.
Archives
Wooden open body in the 40s-50s. The wooden frame with steel plate where the foundation for a closed body in the 50s.
The first foam press trailer
Publication of the first foam press trailer in international press on 21 march 1983.
Passing of Jans Jozef
On Wednesday November 26, 2008 Bruno Jans' brother passed away. Jozef was co-owner together with Bruno in the early years of Jans NV in Hoeselt. Later he started his own company Jans JRS.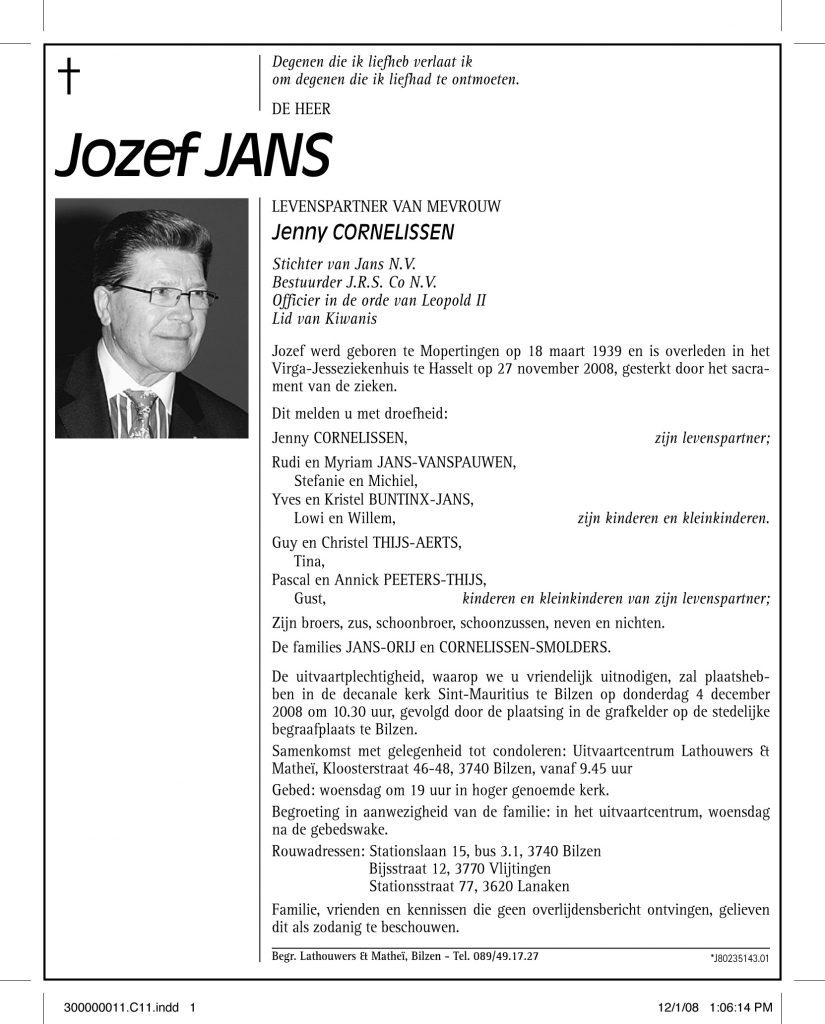 Bruno Jans, manager of Jans Carrosserie and founder of Jans Creacar passed away on 23 August 2023 at the age of 75. He build Jans literally from the ground in Hoeselt and was the inventor of many product like Press Trailer, Led Screen, Fair Trailer and many specialties. His legacy leaves us with many developed products and the founder of Jans Creacar.